Question: is the thermostat easy to install? Does it require a C Wire?
Answer:
Yes, this YoLink Thermostat needs C wire.
We are going to release new version of thermostat for 4 wires installation wich doesn't require C wire next year.
Question: I have a heat pump so hopefully this will work. Below is a picture of my current wiring. I have a blue wire & an orange wire and not sure what to do with them! Also looks like a jumper on the white wire. Please advise!
Answer:
YoLink thermostat only support regular 5 wires thermostat, it doesn't support A/C system with heat pump or 2 stages cooling and heating system.
We will develop and release the new generation of thermostat support the heat pump system in next year.
Question: If my central air does not have a 24volt wire, can i still use your thermostat?
Answer:
If you do not have 24V AC, you can use the 24 Volt Transformer C Wire Adapter to power the thermostat. You can find the adapter at the following link.

Question: My thermostat only have 4 wires; how do I connect this transformer?
Answer:
You can try to upgrading from a 4 Wire Thermostat to a 5 Wire Thermostat, the following videos might be helpful.

Question: How to install Thermostat?
Answer:
We haven't taken a video for the YoLink Thermostat yet, below is the diagram from one of our customers.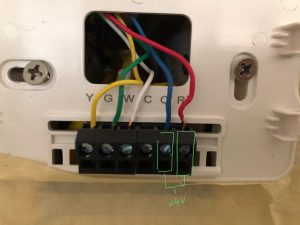 We have a YouTube video for our first-generation Thermostat which involves the same installation. https://www.youtube.com/watch?v=RvneubBlk7k
Please kindly read the following user guide before installation. http://www.yosmart.com/support/YS4002-UC/docs/instruction
Any question, please kindly contact us.