Garage Door Kit 2 with Hub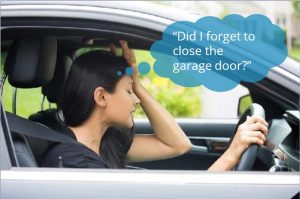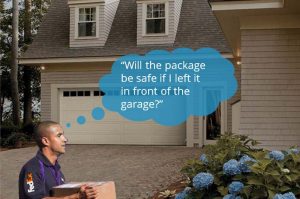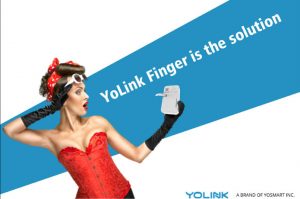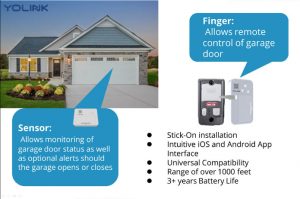 https://www.indiegogo.com/projects/yolink-finger-make-your-garage-smart-in-seconds#/
Overview
The YoLink Finger and garage door sensor is the best garage door controller set in the market. What sets us apart from other products that allow you to remotely check, open, and close your garage door through an app is that our product is incredibly easy to install and compatible with all the garage door openers on the market.
What makes YoLink Finger unique
Easiest to install because you don't need any tools, wires, ladder – just peel the double glue type and stick the sensor on the top panel of the garage door, stick the Remote Touch on side of your garage door wall controller.
YoLink finger is 100% compatible with all garage door openers. You can mount it on the side of your wall controller or mount it on the side of your garage door remote. In seconds, change all brands of garage door systems to a smart garage door system.
Our long range of the LoRa wireless has a coverage of up to 100,000 square feet, unlike other wireless technologies that only cover inside for small homes. You will never worry about the limited WiFi coverage nor the connection drop.
The extremely low power cost; the YoLink garage sensor's batteries included run more than 5 years of battery life, and the YoLink Finger run more than 3 years of battery life. Other wireless garage door sensor normally runs under 2 years of battery life.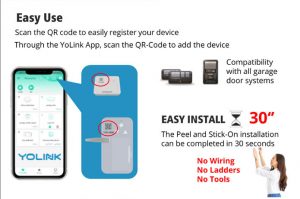 How does it work?
Download the YoLink App from Apple Store or Google Play Store and register your account.
Plug the Hub and connect it to the internet through your router's Ethernet connector or WiFi network.
Scan the bar-code on the sensor and the Remote Touch to add the device to your YoLink App.
Peel the double glue types and stick your sensor on the garage and YoLink Touch on the garage controller.
You're finished! Now you can check your garage door status and open/close your garage door from anywhere through your App. You will also be able to receive the alert when your garage door is opened/closed any time and you can check the history as well.
Security
All the YoLink devices' messages are encrypted with hardware key and AES's cryptographic algorithms, ensuring that all the YoLink control messages are not re-playable or breakable
Affordable smart home whole-house solution
Our team has worked in the smart home devices industry for more than 15 years. We are providing reliable, easy to use, high quality, and affordable whole house smart home solutions.
Most of the products are available in Amazon, please search YoLink on Amazon or visit https://www.amazon.com/yosmart